U2 - The Unforgettable Fire Remastered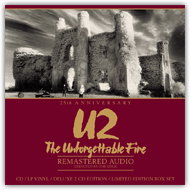 U2's fourth album, The Unforgettable Fire has been remastered, released by Mercury Records and is available now.
This special edition marks 25 years since the album's original release in October 1984. Recorded at Slane Castle, Ireland, The Unforgettable Fire was the first U2 album to be produced by Brian Eno and Danny Lanois, and spawned two top 10 UK singles – "Pride (In The Name Of Love)" and "The Unforgettable Fire".
Special formats of The Unforgettable Fire will also feature bonus audio material, including two previously unheard tracks from the Slane Castle sessions: "Yoshino Blossom", and "Disappearing Act" (a track which the band recently completed), and a DVD including music videos, a documentary and unreleased live footage from the Amnesty International Conspiracy of Hope Tour in 1986. The Unforgettable Fire has been remastered from the original audio tapes, with direction from The Edge.
Read more information about the Limited Edition, Deluxe and vinyl versions.